Page Quality
The Page Quality tab help Page admins to see any content that is potentially breaking Facebook's rules. Up to this point, this has always been back-end information that could only be accessed by Facebook. This will also show content that was removed from your Page and why. With this change, you'll also be able to see what content has reduced distribution due to being rated false by a third-party fact checker.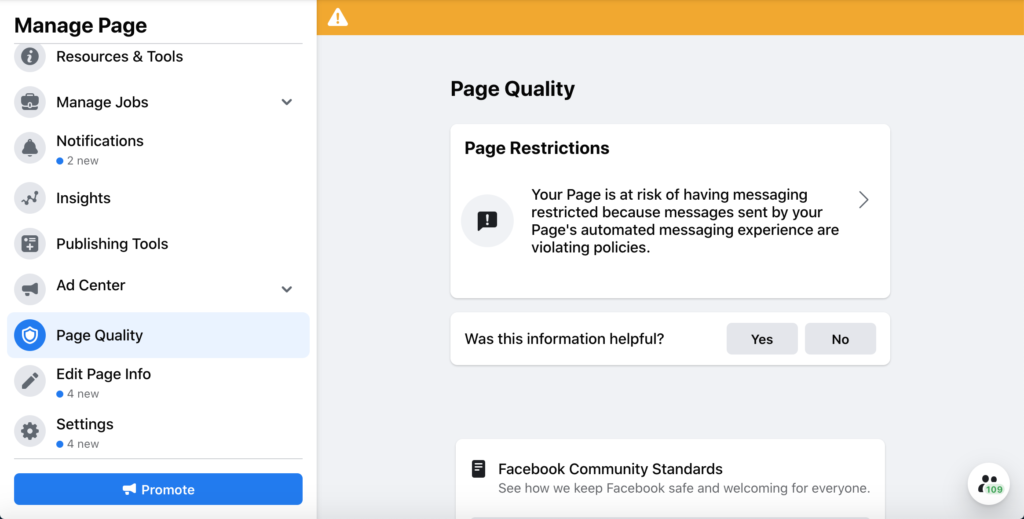 At the top of the feature, you'll see a list of posts that Facebook has removed from your page while explaining why the content has been deleted and which community rules were violated (hate speech, violence, harassment, bullying, nudity, and more). The bottom section shows information about what content on your Facebook page has been misleading or untrue.
With this tool, administrators get a better insight into what they are doing wrong and which page activity needs to be improved. Until now, admins were not necessarily aware that the rules were being violated and thus were experiencing reduced engagement with their posts.

If Facebook discovers that some pages repeatedly violate the rules, they may be shut down.
Page insights
The Overview gives you a bird's-eye view of everything that's happening with your Facebook Page. You can choose to view data for the last 7 or 28 days, for the current day, or for the previous day.
The Overview is broken down into three sections, starting with the Page Summary. Here, you'll see a set of graphs with top-level metrics for a number of categories:
Actions on Page: The combined total clicks for your contact information and call-to-action button
Page views: Total views of your Facebook Page, including by people not logged into Facebook.
Page Previews: The number of times people hovered their mouse over your Page information to see a preview of your Page.
Page Likes: The number of new likes.
Post reach: The number of people who saw your posts in their timeline.
Story reach: The number of people who saw your Stories.
Recommendations: The number of people who recommended your Page.
Post engagement: A combined total of post likes, comments, shares, and other engagements.
Responsiveness: An evaluation of how often and how fast you respond to messages.
Videos: The number of video views of three seconds of more.
Page followers: The number of new followers
Orders: Your orders and earnings.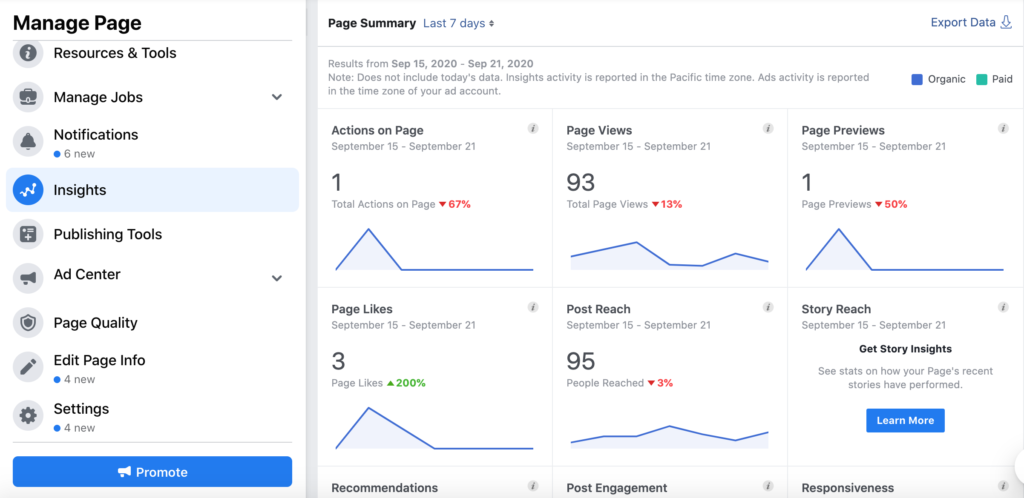 You can click on any of these charts to get more detailed information or click on the corresponding item in the left-hand menu.
Messenger Insights
Facebook Insights also provides a quick overview of your Messenger insights.
Messaging connections: How many people your page can contact. Facebook has mentioned that this metric is in development.
Block rate: The percentage of blocked connections in messenger, in relation to connections that have sent or received messages.
New messaging connections: How many users added your page added as a connection. (The metric includes the number of times new, two-way messaging connections began in messaging apps, either when people clicked your ad in a messaging app (such as Facebook Messenger or Instagram Direct) or when they clicked a button in your ad on another Facebook-owned platform (such as in Facebook News Feed) to send a message to your business. It includes only new connections that were added within the attribution window and excludes connections with people who sent a message to your business in the past.)
Responsiveness: This metric provides two figures — your response rate and your response time. The response rate is the percentage of messages you responded to in Messenger. The response time is how long, on average, it took you to respond to a message.
New blocked connections: How many times users blocked your Messenger connection.
New reported connections: How many people reported a Messenger connection with your page.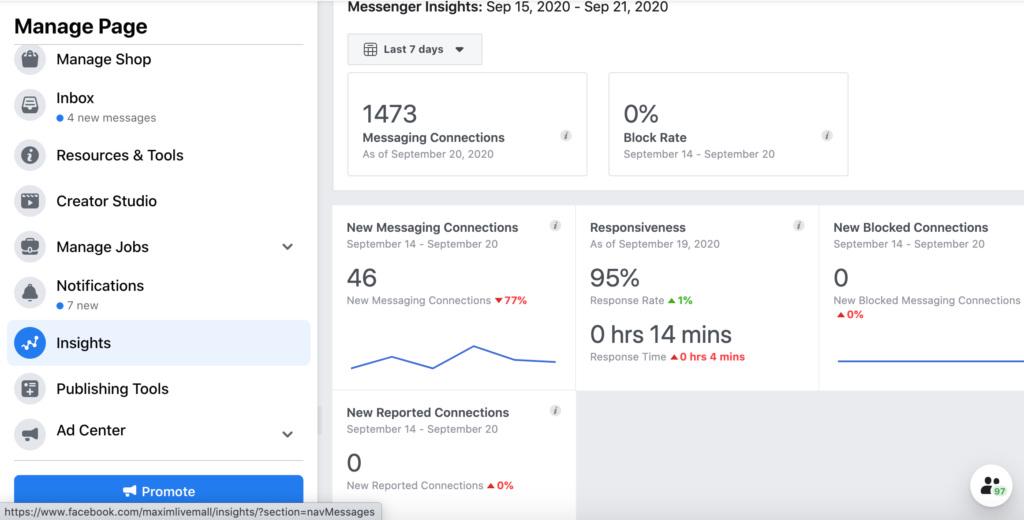 What's an average block rate and what's a high block rate on Facebook Messenger?
1-2% – Normal. A few people blocking you on Facebook Messenger, but nothing to get concerned about.
3-5% – Above average. If your number starts creeping up to 3% or more, it's time to take a look at what you're doing and why more people are blocking you.
6-8% – High. Something is clearly off, and you're approaching the danger zone.
How to use Facebook Insights to improve messenger insights
If you are noticing that your Page's block rate is high, you can try to reduce your block rate by doing the following:
Provide context: Include appropriate context to ensure people expect a message from your business before they start a conversation. Your call-to-action should mention explicitly that clicking it will open a Messenger conversation.
Give customers options: Give people control over the messages they receive, including the ability to opt-out if they are not interested.
Test messages: Before sending your messages to all of your customers, test them on a sample size. Only send the best performers to the larger group. Use custom audiences, or manually select customers.
Find your audience: Focus your efforts on the people who have recently messaged your Page, the country that your business target to or those likely to be repeat customers.
Use best practices: If you're finding technical errors or other persistent issues while using a bot in Messenger, follow best design practices.
Creator Studio
Try creator studio and play around!
Most merchants ask people to like and share, but not every share shows up on everyone screen because FB decides what & when to show
You will see terms like "People reached", which means it shows up either on feed, or any part of the screen at least once.
and how many seconds view and so on. The rule of thumb is if the viewer stays 3min to watch, he is interested and FB will likely intro him again your Page content.